Season:

2022

Rates apply to:

Main Campground, East Shores, and Beaver Island Sites

Check In:
Check Out:
1:00 PM
11:00 AM
---
East Shore/Island Sites Rate*.....................................................
$28.00/night
Extra Person(s) ...........................................................
$8.00/person
Main Campground Sites ........................................
$39.00/night
Main Campground Sites with Electric Hookups(30/50 amp)** ....................................
$43.00/night
Pop-up Camper (2 Night Minimum) ....................................
$70.00/night
Summer Camps.............................................................
$10.00/person
Day Visitors.................................................................
$3.00/person
Overnight Visitors.........................................................
$8.00/person
Overnight Parking.........................................................
$7.00/vehicle

9% Maine Sales Tax Charged to ALL Sites
Note: Rates are subject to change at anytime without notice.

*Site rates include 2 Adults and Children 17 & younger
**Electric hookups are NOT available on East Shores Sites and Island Sites. 9% Maine Sales Tax Charged. Extra Charge for Air Conditioners and Electric Heaters
Reservation/Payment/Cancellation Policies:
100% deposit MUST accompany reservation
3 night minimum stay is required on holidays
Reservations are NON-transferrable
Refunds require a 30-day cancellation notice
(When cancelling, 5% of the total charge is withheld)
NO Refunds due:
To early departures
Cancellations made within 30 days from arrival
Campground Policies:
> Check-in Time: 1:00 PM
> Check-Out Time: 11:00 AM
CAMPFIRES are permitted in fire-rings ONLY!
> Fire-rings are NOT to be moved for any reason.
> Fires MUST be kept small and managable at all times
Recycling is MANDATORY!
> See store for recycling instructions
DO NOT cut any trees or peel bark (Alive or Dead trees)
> You will be fined for any tree damage by:
The State of Maine Forestry & Black Brook Cove Campground
QUITE HOURS: 10:00 PM to 8:00 AM
> NO GENERATORS AT ANY TIME
> NO LOUD MUSIC AT ANY TIME
Well behaved pets are welcome! Please keep in mind:
> Pets must be leashed, quite, and cleaned up after AT ALL TIMES!
> Pets are not allowed in Bathhouse or Woodshed
NO PARKING around the Bathhouse or Woodshed
> There is ample parking around the General Store
ATVs are not permitted to operate in the campground or on Lincoln Pond Road
> Feel free to ask for areas of recreation!
FIREWORKS ARE PROHIBITED from the campground.
> The use of Fireworks require permission from any landowner, if not your own property, before lighting
Failure to adhere to the above policies can and will result in dismissal from the campground without refund. Please respect our campers and surrounding properties.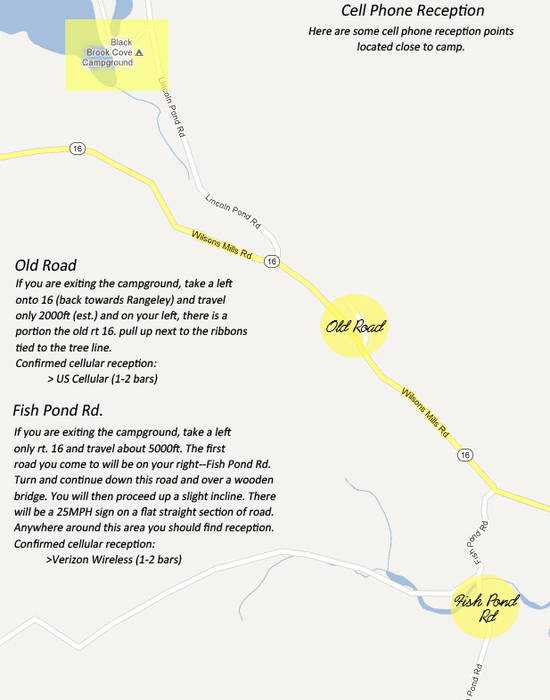 We'll add you to our mailing list for our email updates